Set yourself an event goal!
Feeling keen to try a tri? Ready to run a fun run? Signing up for an event is a great way to stay on track with your activity goals! It puts in place a powerful personal pact that can be hugely motivating - helping you get out of bed on those cold mornings, or fit in a session after work when you don't feel like it.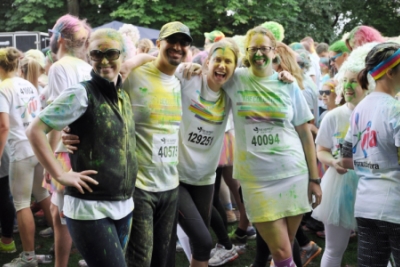 Doing an event as part of a team or with a friend, work colleague, neighbour or your whānau can create an even stronger level of accountability. Having a bunch of cheerleaders saying "Come on, let's go!" can help keep you motivated and stick with it.
Another helpful strategy is to get active for a cause if you are motivated by supporting others. Active community events - like the Pink Ribbon Walk or Relay for Life - are a great way to do something healthy while giving back. Some events also offer training programmes to get you ready, and prizes!
There is a huge range of events to choose from in Canterbury - whether you're just starting out or looking for something more challenging. Check out the listings and links below to find upcoming events over the next few months.
Note: Some events listed may be affected with changes in COVID-19 Alert Level. Please check with the organiser for the latest updates.
Upcoming Events
Run, walk, mountain bike, road bike or swim from 21st to 28th each month. Submit your time and see your results compared to others.
---
Get off the beaten track and explore parts of Banks Peninsula on these guided weekend walks.
---
Trek and bike your way through native bush, streams, farmland and trails in this team adventure race starting from a mystery location.
---
Join this run/walk/bike event in Mid Canterbury for all ages and fitness levels.
---
This one-day festival truly has something for everyone, from kids and first timers to elite triathletes.
---
This event is a truly unique race through beautiful scenery, with marathon, half marathon and 10km options.
---
This event along the Waimakariri River is suitable to bikers and runners from age 13 upwards, on this scenic but challenging course.
---
This summer swim race series provides an opportunity to practice and gain confidence in a safe open water environment.
---
Run around beautiful Pegasus Town in this event for runners of all abilities.
---
Join this safe family-friendly event in South Hagley Park.
---
Here are some other websites to help you find a suitable opportunity: