Set yourself an event goal!
Feeling keen to try a tri? Ready to run a fun run? Signing up for an event is a great way to stay on track with your activity goals! It puts in place a powerful personal pact that can be hugely motivating - helping you get out of bed on those cold mornings, or fit in a session after work when you don't feel like it.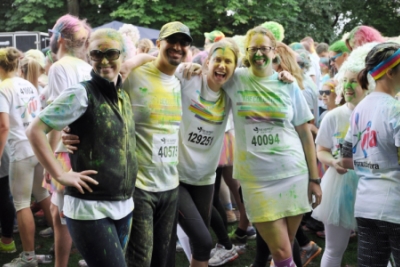 Doing an event as part of a team or with a friend, work colleague, neighbour or your whānau can create an even stronger level of accountability. Having a bunch of cheerleaders saying "Come on, let's go!" can help keep you motivated and stick with it.
Another helpful strategy is to get active for a cause if you are motivated by supporting others. Active community events - like the Pink Ribbon Walk or Relay for Life - are a great way to do something healthy while giving back. Some events also offer training programmes to get you ready, and prizes!
There is a huge range of events to choose from in Canterbury - whether you're just starting out or looking for something more challenging. Check out the listings and links below to find upcoming events over the next few months.
Note: Some events listed may be affected with changes in COVID-19 Framework ("traffic light") Level. Please check with the organiser for the latest updates.
Upcoming Events
These fun rogaines are suitable for gurus to newbies: 1-hour and 2-hour options are available.
---
Team up for this relay run covering a wide variety of terrain in a short circuit course.
---
Winter Worlds is an iconic road racing series held on the outskirts of Christchurch. It provides all riders with a simple, safe and fun opportunity to race during winter and have a blast doing it.
---
This Duathlon Series caters for everyone and you can compete as an individual or a team - including as a family.
---
Run along the Waimakariri River on the same route as the Bridge to Bridge Mountain Bike Ride.
---
This event along the Waimakariri River is suitable to bikers from age 7 upwards, on this scenic but challenging course.
---
Join this series of SouthernCross CX events - Canterbury's answer to Cyclocross.
---
Bring along your family, your friends and your light bling to the annual Christchurch NZ Solstice Night Light bike ride.
---
These Sri Chinmoy races are fun events for all, running up and down the Sumner Esplanade.
---
Join this 6-hour or 12-hour team rogaine in the Amuri Basin.
---
Here are some other websites to help you find a suitable opportunity: