Set yourself an event goal!
Feeling keen to try a tri? Ready to run a fun run? Signing up for an event is a great way to stay on track with your activity goals! It puts in place a powerful personal pact that can be hugely motivating - helping you get out of bed on those cold mornings, or fit in a session after work when you don't feel like it.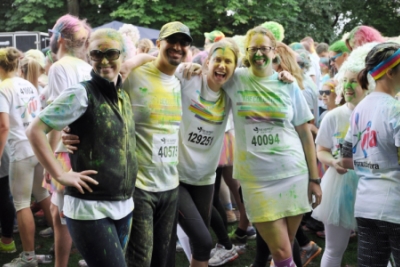 Doing an event as part of a team or with a friend, work colleague, neighbour or your whānau can create an even stronger level of accountability. Having a bunch of cheerleaders saying "Come on, let's go!" can help keep you motivated and stick with it.
Another helpful strategy is to get active for a cause if you are motivated by supporting others. Active community events - like the Pink Ribbon Walk or Relay for Life - are a great way to do something healthy while giving back. Some events also offer training programmes to get you ready, and prizes!
There is a huge range of events to choose from in Canterbury - whether you're just starting out or looking for something more challenging. Check out the listings and links below to find upcoming events over the next few months.
Note: Some events listed may be affected with changes in COVID-19 Framework ("traffic light") Level. Please check with the organiser for the latest updates.
Upcoming Events
Join this series of five Tuesday evening runs in Hagley Park North during January and February 2023.
---
This summer swim race series provides an opportunity to practice and gain confidence in a safe open water environment.
---
These fun rogaines are suitable for gurus to newbies: 1-hour and 2-hour options are available.
---
This event is suitable for all ages and abilities with a challenging course - previously known as the Corsair Bay Classic.
---
Join this fun and run or walk amongst the picturesque hills, valleys and vineyards of Pegasus Bay to support the New Zealand Brain Research Institute.
---
This three-race series on Friday evenings uses Lake Crichton - the perfect venue for an entry level duathlon or triathlon.
---
Join this new trail running series covering three Port Hills peaks in three weeks.
---
Join this 5km team road run to raise funds for the International Track Meet.
---
Come along to this series of fun evening sprint orienteering events.
---
The event is part of the Banana Boat NZ Ocean Swim Series.
---
Here are some other websites to help you find a suitable opportunity: