Set yourself an event goal!
Feeling keen to try a tri? Ready to run a fun run? Signing up for an event is a great way to stay on track with your activity goals! It puts in place a powerful personal pact that can be hugely motivating - helping you get out of bed on those cold mornings, or fit in a session after work when you don't feel like it.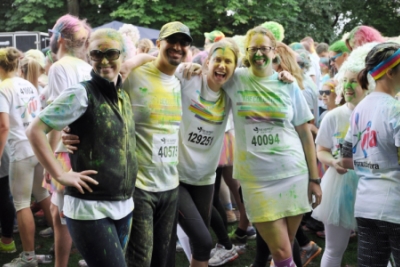 Doing an event as part of a team or with a friend, work colleague, neighbour or your whānau can create an even stronger level of accountability. Having a bunch of cheerleaders saying "Come on, let's go!" can help keep you motivated and stick with it.
Another helpful strategy is to get active for a cause if you are motivated by supporting others. Active community events - like the Pink Ribbon Walk or Relay for Life - are a great way to do something healthy while giving back. Some events also offer training programmes to get you ready, and prizes!
There is a huge range of events to choose from in Canterbury - whether you're just starting out or looking for something more challenging. Check out the listings and links below to find upcoming events over the next few months.
Note: Some events listed may be affected with changes in COVID-19 Framework ("traffic light") Level. Please check with the organiser for the latest updates.
Upcoming Events
Run around beautiful Pegasus Town in this event for runners of all abilities.
---
This one-day festival truly has something for everyone, from kids and first timers to elite triathletes.
---
Join this safe family-friendly event in South Hagley Park.
---
Each event in this series will be set on a different terrain or location bringing a new challenge to each course and competitor.
---
Join this event with a course encompassing some of the most picturesque settings of Canterbury.
---
Join these swim races from Fit and Abel this summer.
---
Join this series of five Tuesday evening runs in Hagley Park North during January and February 2024.
---
Help the Crusaders run 10,000 laps of Rugby and Malvern parks to and raise funds for the Child Cancer Foundation.
---
The tough get going on this weekend of mountain event challenges.
---
This three-race series on Friday evenings uses Lake Crichton - the perfect venue for an entry level duathlon or triathlon.
---
Here are some other websites to help you find a suitable opportunity: