What's New?
Regular movement vital for getting through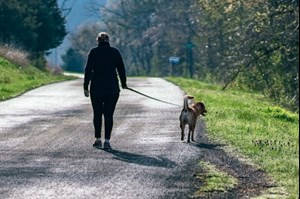 With the whole country in lockdown due to COVID-19, it's more important than ever to move regularly and be active throughout the day!
Physical activity boosts chemicals in the brain like depression-busting serotonin and reward signalling dopamine, improving self-esteem and cognitive function. Exercise also improves mental health by reducing anxiety, depression, and negative mood. While there are lots of ways to be active indoors, getting out of the house offers a range of other wellbeing benefits.
Research has shown that just one short, daily exposure to nature can provide a natural boost to our mental wellbeing for up to 7 hrs! Spending time in nature also promotes better sleep. Researchers discovered that the nervous system of people who listened to recordings from nature moved towards a more relaxed "rest and digest" mode than those who didn't.
Getting enough vitamin D is another important reason to head outdoors. Vitamin D helps regulate the amount of calcium and phosphate in the body. These nutrients are needed to keep bones, teeth and muscles healthy. Most people get about 80 percent of their vitamin D from UV-B rays in sunlight. As little as 15 minutes in direct sunlight (without sunscreen) three times a week is enough for your body to make the vitamin D you need.
Thankfully we are able to spend time outside exercising under all Alert Levels in New Zealand.
The official COVID-19 website gives the specific sport and recreation guidelines that apply at each level.
Whether it's yoga, weights, dancing, gardening, mowing the lawns, cleaning the house or other forms of movement, set aside time each day to be active – and try to include at least 15 minutes of outside activity three times a week to get enough vitamin D and an extra wellbeing boost from time spent in nature.
Connect during Mental Health Awareness Week
Mental Health Awareness Week (MHAW) is coming up - running from 27th September to 3rd October! This year's theme is take time to kōrero - mā te kōrero, ka ora. 
A little chat can go a long way and staying connected has never been more important in the current COVID-19 situation.
Find out more about Mental Health Awareness Week.
---
Keep up to date on the Active Canterbury Facebook page
Active Canterbury on Facebook has the latest local events and happenings on physical activity.
Like Active Canterbury on Facebook.
---
Latest research and news
Here are some snippets on the latest physical activity research or news that we found interesting.
New research says regular exercise can help slow the progression to Alzheimer's disease as well as improve the heart and brain.
---
ExerciseNZ has endorsed new research which shows physical activity and good sleep work together to counter negative health effects of poor sleep.
---
Sport and Recreation Minister Grant Robertson has announced how $5.7 million will be allocated to create better quality experiences for disabled tamariki and rangatahi.
---
Read more Active Canterbury news.
---
Active Canterbury Newsletter
The Active Canterbury Newsletter is produced bi-monthly and aims to keep local physical activity providers informed. It has a focus on latest physical activity research, upcoming education and training opportunities, key events and tips on how to practically apply research and industry tools.
View the latest newsletter: AC Network Newsletter: September-October 2021