What's New?
Explore Waitaha on foot this Autumn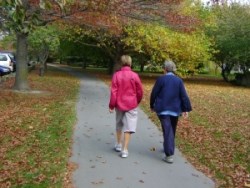 Walk Waitaha is an alternative to the annual Walking Festival which was unable to run in its usual form this year due to the COVID-19 Red light setting.
It runs from Friday 1st April to Sunday 15th May 2022 and showcases a selection of self-guided walks and walking activities around Christchurch city and parts of the Waimakariri and Selwyn Districts. There is something to cater for every kind of walker.
Many of the self-guided walks have apps or free downloadable maps that can enhance the user experience by providing cultural or historical information or details about the flora and fauna.
There are a range of fun walking activities for those who prefer something a little more interactive - such as disc golf or Geocaching - that the whole whānau can enjoy.
"Walking can enhance our mental and physical wellbeing and autumn is the perfect mellow season to get together with friends or family, lace up your walking shoes and enjoy the fresh air and sunshine!" says Christchurch City Council Head of Community Support and Partnerships John Filsell.
The full Walk Waitaha programme is available online.
There are 15 accessible walks of varying distances from 500m - to as far as you want to go.
Get the latest updates on the Walk Waitaha Facebook page.
---
Keep up to date on the Active Canterbury Facebook page
Active Canterbury on Facebook has the latest local events and happenings on physical activity.
Like Active Canterbury on Facebook.
---
Latest research and news
Here are some snippets on the latest physical activity research or news that we found interesting.
New research says regular exercise can help slow the progression to Alzheimer's disease as well as improve the heart and brain.
---
ExerciseNZ has endorsed new research which shows physical activity and good sleep work together to counter negative health effects of poor sleep.
---
Sport and Recreation Minister Grant Robertson has announced how $5.7 million will be allocated to create better quality experiences for disabled tamariki and rangatahi.
---
Read more Active Canterbury news.
---
Active Canterbury Newsletter
The Active Canterbury Newsletter is produced bi-monthly and aims to keep local physical activity providers informed. It has a focus on latest physical activity research, upcoming education and training opportunities, key events and tips on how to practically apply research and industry tools.
View the latest newsletter: AC Network Newsletter: May-June 2022