What's New?
Let nature in and strengthen your wellbeing: Mā te taiao, kia whakapakari tōu oranga!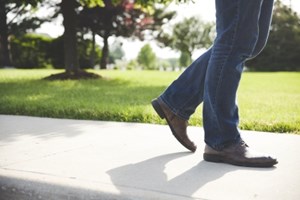 Spending time in green space or bringing nature into your everyday life can benefit both your mental and physical wellbeing. Research has shown that spending time in nature makes us feel good, builds resilience and boosts mental wellbeing. It can also reduce blood pressure, heart rate, muscle tension, and the production of stress hormones.
There are two national promotions coming up that are designed to encourage us to get out into nature, use our feet, and take notice!
Mark the dates and use these opportunities to get motivated to spend more time outdoors and enjoying nature.
Parks Week: Parks Week is an annual celebration of the vital role that parks play in creating liveable cities and thriving communities. The focus in 2021 is on how spending time in our parks and open spaces positively influences our wellbeing.​ Celebrate Parks Week from Saturday 6th to Sunday 14th March by getting out of your living room and enjoying the outdoors.
Walk2Work Day: Wednesday 10th March is our national day to celebrate walking. Walking is a wonderful, healthy and fun part of every journey. Think about ways you can use your daily commute to spend more time in nature. Can you walk through a local park? Choose a different route that includes more green spaces? Start walking to work a few times a week?
Find your local park or other parks in Canterbury.
Let nature in and you'll soon be reaping the benefits!
---
Keep up to date on the Active Canterbury Facebook page
Active Canterbury on Facebook has the latest local events and happenings on physical activity.
Like Active Canterbury on Facebook.
---
Latest research and news
Here are some snippets on the latest physical activity research or news that we found interesting.
The American College annual ACSM's Health & Fitness Journal® worldwide survey results were released in early January.
---
Researchers in this study wanted to determine the rate that free online educational resources presented at least one message consistent with national physical activity guidelines (PAGs).

---
ExerciseNZ chief executive Richard Beddie says people wanting to exercise again after the long holiday break should start gently with less intensity.
---
Read more Active Canterbury news.
---
Active Canterbury Newsletter
The Active Canterbury Newsletter is produced bi-monthly and aims to keep local physical activity providers informed. It has a focus on latest physical activity research, upcoming education and training opportunities, key events and tips on how to practically apply research and industry tools.
View the latest newsletter: AC Network Newsletter: February 2021