What's New?
Wellbeing Bingo: A great way to Push Play!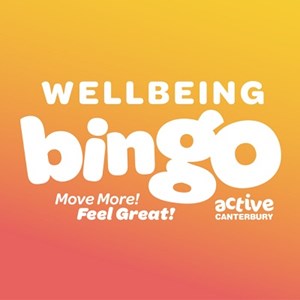 New research from Sport NZ's Active NZ survey shows that while physical activity rates have rebounded to some degree since the start of the COVID-19 pandemic, it isn't happening across the board. The survey also found that motivation is still proving to be a key barrier.
Sport New Zealand recently relaunched its iconic 90's Push Play campaign to address these findings. The aim is to get New Zealanders up and down the country to add more movement into their day-to-day lives.
The Active Canterbury Network has developed an activation called Wellbeing Bingo to encourage Cantabrians to start moving move to support the Push Play message locally!
Participants choose from a Families/Whānau card or an Individual card. Each card has a total of 25 activities with a focus on exploring nature, visiting new places, trying new things and easy ways to move. The aim is to complete 5 activities each week for 5 weeks - starting on Monday 1st August 2022.
There are weekly prize draws and a final prize draw. Prizes include gym vouchers, free classes, pool passes, outdoor experiences, sports gear and spot prizes!
"The Network wanted to provide a fun way for Cantabrians to Push Play", says Active Canterbury Network Coordinator, Nadine Milmine.
"The link between physical activity and a broad range of wellbeing measures is well documented, so we decided to make wellbeing the central theme. We hope this activation will provide Cantabrians with a boost in motivation and help them re-establish or develop new activity habits".
"Facebook, Instagram and TikTok will be used to promote and support the activation, with participants being encouraged to post pictures and videos of the activities they complete each week. We want to create an online buzz over the 5 weeks that encourages everyone to get involved", says Milmine.
Find out more about Wellbeing Bingo, including how to play.
---
Keep up to date on the Active Canterbury Facebook page
Active Canterbury on Facebook has the latest local events and happenings on physical activity.
Like Active Canterbury on Facebook.
---
Latest research and news
Here are some snippets on the latest physical activity research or news that we found interesting.
New research says regular exercise can help slow the progression to Alzheimer's disease as well as improve the heart and brain.
---
ExerciseNZ has endorsed new research which shows physical activity and good sleep work together to counter negative health effects of poor sleep.
---
Sport and Recreation Minister Grant Robertson has announced how $5.7 million will be allocated to create better quality experiences for disabled tamariki and rangatahi.
---
Read more Active Canterbury news.
---
Active Canterbury Newsletter
The Active Canterbury Newsletter is produced bi-monthly and aims to keep local physical activity providers informed. It has a focus on latest physical activity research, upcoming education and training opportunities, key events and tips on how to practically apply research and industry tools.
View the latest newsletter: AC Network Newsletter July-August 2022