What's New?
Walking is a wonderful way to improve or maintain your health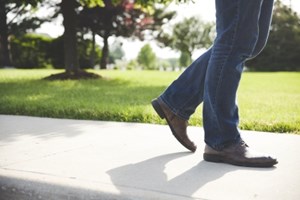 Countless scientific studies have found that this simple act of moving our feet can provide a number of health benefits and help people live longer.
The beauty of walking is that it's free, doesn't require a lot of special equipment and can be done almost anywhere! Try to walk for at least 30 minutes as briskly as you can on most days of the week to get the health benefits. Brisk means that you can still talk but not sing, and you may be puffing slightly. The goal is to walk fast enough to raise your heart rate - even if just for a short burst.
Walking for fun and fitness isn't limited to strolling by yourself around your neighbourhood. There are various clubs and strategies you can use to make walking an enjoyable and social part of your lifestyle:
Give walking a go! Take small steps and build up slowly! You'll soon be enjoying the benefits.
---
Keep up to date on the Active Canterbury Facebook page
Active Canterbury on Facebook has the latest local events and happenings on physical activity.
Like Active Canterbury on Facebook.
---
Latest research and news
Here are some snippets on the latest physical activity research or news that we found interesting.
A new study has found that exercise may help older adults by slowing the onset of memory loss and dementia.
---
The American College annual ACSM's Health & Fitness Journal® worldwide survey results were released in early January.
---
Researchers in this study wanted to determine the rate that free online educational resources presented at least one message consistent with national physical activity guidelines (PAGs).

---
Read more Active Canterbury news.
---
Active Canterbury Newsletter
The Active Canterbury Newsletter is produced bi-monthly and aims to keep local physical activity providers informed. It has a focus on latest physical activity research, upcoming education and training opportunities, key events and tips on how to practically apply research and industry tools.
View the latest newsletter: AC Network Newsletter March-April 2021