What's New?
Keep moving over the holiday season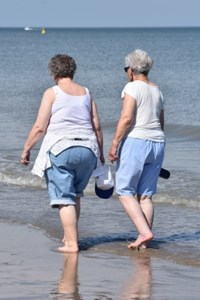 Many of us look forward to the holiday season. However it can also be a time when our wellbeing takes a dive.
One way to help manage stress, lift mood, boost energy and support wellbeing is to make regular activity a priority. It may seem counter intuitive when we are busy and have a big list of things to do – but it really can be a game changer. Physical activity boosts chemicals in the brain like depression-busting serotonin and reward signalling dopamine, making us feel more energised and happier.
Early in the morning or after dinner can be a great time to plan something active during the warmer summer months. Doing a 30 minute walk each day is a great way to keep active while also exploring different places. You could go to the bush, around the neighbourhood or to the local playground.
Here are some other free or low-cost family activity ideas you might like to try:
Head to the beach for a swim or some active games on the sand - like sand sculpting, frisbee, beach cricket or beach tag.
Jump rope or fly a kite.
Use chalk to make hopscotch shapes or a handball court.
Build a fort – inside or outside.
Go fishing.
Do some vegetable gardening.
Go berry or fruit picking.
Hold a family dance-off with different members picking the music.
Follow adventure maps.
Explore Kiwi Guardians sites (Department of Conservation).
Download the Agents of Discovery app and visit new places.
Other options needing some equipment or for a cost include:
Backyard cricket, frisbee, touch rugby or tag, and croquet or petanque.
Run through the water sprinkler or have water gun battles.
Bike or scooter rides.
Visit the local ice rink, trampoline park, ten pin bowling, mini golf, or animal park.
Check out other easy ways to move more these holidays.
Do what you can – whāia te mea ka taea e koe.
Enjoy what you do – kia pārekareka tāu i whai ai.
Move your mood – kia pai ake ō piropiro.
---
Keep up to date on the Active Canterbury Facebook page
Active Canterbury on Facebook has the latest local events and happenings on physical activity.
Like Active Canterbury on Facebook.
---
Latest research and news
Here are some snippets on the latest physical activity research or news that we found interesting.
New research says regular exercise can help slow the progression to Alzheimer's disease as well as improve the heart and brain.
---
ExerciseNZ has endorsed new research which shows physical activity and good sleep work together to counter negative health effects of poor sleep.
---
Sport and Recreation Minister Grant Robertson has announced how $5.7 million will be allocated to create better quality experiences for disabled tamariki and rangatahi.
---
Read more Active Canterbury news.
---
Active Canterbury Newsletter
The Active Canterbury Newsletter is produced bi-monthly and aims to keep local physical activity providers informed. It has a focus on latest physical activity research, upcoming education and training opportunities, key events and tips on how to practically apply research and industry tools.
View the latest newsletter: AC Network Newsletter November-December 2021