Under fives
Preschool children need to be active at home, at play during the weekends and in the community.
Kids need more exercise than adults, and children under five should be encouraged to move every day. Older children and young people should be kept busy with at least 60 minutes of moderate- to vigorous-intensity physical activity every day.
Physical activity has aerobic, muscle-strengthening and bone-strengthening benefits for kids:
Aerobic activities increase their heart rate and keep them fit.
Muscle-strengthening activities build strength in the muscles, tendons and ligaments. They improve joint function and reduce the potential for injury.
Bone-strengthening activities can also double as aerobic and muscle-strengthening activities!
Download free online resources on getting children aged five and under to play regularly and have quality sleep from the Ministry of Health.
Download a factsheet on suitable physical activity ideas for children and young people [PDF].
Download a factsheet on fun games and activities with a fly swatter [PDF].
Find out about activities for the whānau from All Right?.
Download the Pack of Tiny Adventures Smartphone app! ​ Tiny Adventures contains nearly 90 activities, ranging from baking and bouncy balloony fun, to arts and craft activities.
Agents of Discovery is a FREE educational games app from the Christchurch City Council that uses augmented reality to interact with the world around you. Use a smart phone to solve fun challenges while exploring Christchurch's awesome parks. There are new missions every season!
Activity ideas for babies, toddlers and preschoolers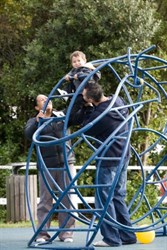 Active movement is so important as children learn from movement and physical activity. It is important for healthy brain development that children move. Early childhood experiences are critical to the development of the skills, attitudes and confidence required to become an active participant in sport and recreation in later life.
Download Active Movement resources for under-fives from Sport NZ on balancing, walking, tummy time, climbing and more.
Preschoolers can participate in gymnastics and climbing classes at the YMCA Christchurch. These classes are designed to help develop motor skills, confidence and body awareness while having lots of fun incorporating dance, song and games.
The Christchurch City Council provides the following recreational activities for under fives:
Christchurch Babytimes (Wā Pēpi) is a programme especially suitable for under two year olds from the Christchurch City Libraries.  Each session involves sharing a variety of stories, songs, rhymes, fingerplays and other book related activities.
Baby Rhymes from the Christchurch City Libraries is designed to help with language acquisition, develop memory skills, encourage baby to make new sounds and expands vocabulary.  Rhymes also involve tactile play and massaging which:
boosts awareness of baby's body and body parts;
helps them learn about new types of movement and mimics skills like crawling;
increases hand-eye co-ordination in preparation for walking;
encourages both left and right-brain activity at the same time -increasing the functionality of the brain; and
promotes left and right-brain stimulation in unison.
Selwyn Baby and Toddler Time offers regular sessions for babies and toddlers at at Selwyn Libraries.
Waimakariri Storytimes and Babytimes offers regular session that encourage learning through a love of reading with stories, rhymes, music and movement, and run during school terms.
Mainly Music is a fun music group for parents or primary care givers to enjoy together with their young child. Children develop gross and fine motor skills, language, imagination, mathematical and pre-reading skills as well as socialising with others during these morning sessions.
Christchurch City Libraries have some cool Māori resources perfect for getting tamariki moving. Check out the Waiata section which includes Maori songs for children, Waiata on CD and Kapa haka.
Use the Activity Search to find other music groups and sessions in your area using the following key words: Playgroup, Music, Preschool.