Active with a health condition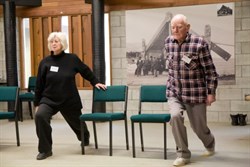 You should talk with your doctor about being active if you have a chronic health condition like arthritis, COPD, diabetes or heart disease. Your condition may limit your ability to be active in some way, and you may need to work with your doctor to come up with a physical activity plan that matches your abilities.
Try to do as much as you can if your condition stops you from meeting the recommended daily activity levels. What's important is that you avoid being inactive. Even just 60 minutes a week of moderate-intensity aerobic activity is good for you.
Find out about getting active with a disability or neurodegenerative disease such as Parkinson's and MS, or recovery from a stroke.
What to consider when starting to get active
You might be unsure about becoming active or boosting your level of physical activity because you're afraid of getting hurt. The good news is that moderate-intensity aerobic activity is generally safe for most people, like brisk walking.
Start slowly and gradually increase your level of activity. Cardiac events like heart attacks are rare during physical activity. However the risk does go up when you suddenly become much more active than usual. For example you can put yourself at risk if you don't usually get much physical activity and then all of a sudden do vigorous-intensity aerobic activity.
Check out the Getting started page for some tips.
Use the Greater Christchurch Sport and Recreation Guide to find a local group or class to help you get started and begin achieving your activity goals.
Water exercise information sheets available
​Four water-based exercise sheets to assist people with health conditions can be downloaded from the HealthInfo website. The exercises can help with pain reduction, joint mobility, overall fitness, feeling happier, and make it easier to do everyday activities.
You could do these exercises or use the sheets at your own pool or at the local public pool. Laminated copies of the water-based exercise sheets are available at the following Christchurch City Council Pools and Recreation centres:
Pioneer;
Graham Condon;
Jellie Park; and
Taiora QEII.
The Big List Directory: A new resource for exercise providers and advocates
A new resource has been produced by the Active Canterbury Network for exercise advocates and providers in the region - called 'The Big List' Directory.
This resource is divided into zones from Waimakariri to Ashburton and lists many classes and facilities that are particularly appropriate for older adults and people with long-term conditions. The Big List Directory will be updated as often as possible and get in touch if you spot any errors.
Download The Big List Directory - updated November 2023 [1.22MB PDF].
​Stand Strong: Don't be a heartbreaker
When heart disease strikes, it doesn't break just one heart. It breaks many. Your whānau, your friends and your community need you to take care of your heart.
My Heart Check is a free online heart health check. It uses your personal risk factors to assess your heart age and gives you tips for reducing your risk.
Fifteen years ago, Sunny Naidoo had never pulled on running shoes or set foot inside a gym. But after a heart attack and bypass surgery, he knew things had to change.  He started walking with the support of his family, and that soon led to running. Now he's competed in numerous events and even in the World Master's Games. He wants people to help their hearts before it's too late.
Find out more about Sunny's story - part of the Stand Strong campaign from the Heart Foundation.
Mobility Action programme (MAP) for osteoarthritis
MAP is a FREE eight-week programme for people with osteoarthritis that affects their hip or knee. This programme is available in-person or online.
Talk to your GP or other health professional if MAP is right for you - so they can refer you.
Other contacts for support and advice
There are many great organisations both regionally and nationally that can provide you with relevant information about your health condition and ideas on  how to get more active.