Programmes to help you get active
If you're not used to being active, it can seem tough to get going!
That's why getting some extra help and support at the start can make such a positive difference! In Canterbury we are fortunate to have a range of excellent programmes designed to help you get started and maintain an active lifestyle.
Getting some specific support can also really help, such as getting involved with a group activity or having a personal trainer or coach.
Pae Ora ki Waitaha Healthy Lifestyles
The Pae Ora ki Waitaha Healthy Lifestyles programme is for whānau/family who want to make healthy lifestyle changes, and is provided by:
Purapura Whetu Trust;
Tangata Atumotu Trust;
Waitaha Primary Health; and
Whānau Whanake.
Requests are triaged at a single point of request by Waitaha Primary Health.
Complete the online referral form for Pae Ora ki Waitaha Healthy Lifestyles, including the specific criteria that must be met. Self-referrals are also accepted.
Empowering LGBTQIA+ community and lifting mauri through movement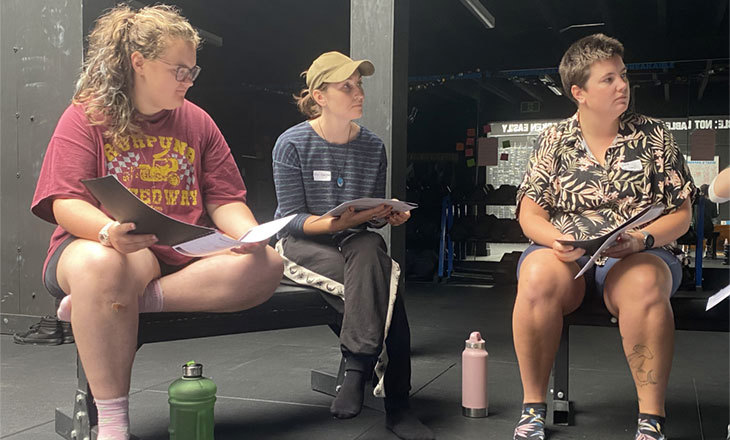 The Unbreakable Foundation is an Ōtautahi-based organisation empowering rainbow and takatapui rangatahi and adults to use movement and improve their physical and mental wellbeing through local workshops. This work was made possible by Tu Manawa Active Aotearoa funding from Sport Canterbury.
The Unbreakable Foundation aims to improve access to physical activity through holistic health education in a gym setting - with programmes and workshops designed for and with communities traditionally excluded from sport and recreation. The workshops are centred on Te Whare Tapa Whā - a Māori holistic model of health and wellbeing.
Unbreakable Director Ciara Corrigan says feedback on their initial Safe Gain workshops has been really positive.
"A post-workshop survey found that all participants felt more knowledgeable and more confident in how to move their bodies," says Ciara. In the workshops participants heard from speakers, shared experiences and discussed barriers to accessing physical activity. They were also exposed to yoga and deadlifts.
"I think this knowledge and experience can be super relevant to help young people rethink exercise as something they can connect to and enjoy. I also liked the 'take small steps' advice, and think that LGBTQIA+ folks have lots on their plate. So small steps are often the only steps available," said one participant.
Find out more about the Unbreakable Foundation (Facebook).
Achieve your goals with He Waka Tapu
Staff at He Waka Tapu are available to help you achieve your health and physical activity goals. They will work closely with you to build a personalised plan, and can support you in the following areas:
quit smoking;
diabetes management; and
fitness and physical activity.
Contact He Waka Tapu today for more information, advice and support. You can also call them on 0800 HE WAKA (0800 43 9252). 
Better manage your health with Te Tumu Waiora
Te Tumu Waiora Canterbury programme can help people with their wellbeing and mental health through staff based in local general practices. Their Health Improvement Practitioners (HIP) and Health Coaches support people to make a plan and give them information and tools to better manage their health.
People see HIPs and Health Coaches for a wide range of reasons, including:
anxiety, stress or depression;
sleep issues;
family or relationship issues;
lifestyle concerns such as nutrition, physical activity or smoking; and
managing long term conditions.
GPs or nurses at the general practice can offer the option to see the HIP or Health Coach quickly. These appointments are FREE and usually held at the same medical centre.
Te Tumu Waiora has been operating in Canterbury since late 2019, and is increasingly becoming available in more general practices.
Find out more about the Te Tumu Waiora Canterbury programme, including checking out if there are HIPs and Health Coaches near you.
Get healthy eating support from Puāwai - Kai
Puāwai - Kai (formerly known as Appetite for Life) is a FREE 8-week weight management and healthy lifestyle programme that has been designed specifically for people who are fed up with the dieting process and just want to have a normal relationship with food.
Puāwai - Kai is not a diet. It promotes small lifestyle changes that help you lose weight slowly, maintain weight loss and feel good about yourself throughout the process.
Find out more about Puāwai - Kai or a course happening near you.