Keeping motivated
Here are some ways to keep yourself motivated to be active:
Aim for a goal: It might be walking a certain distance or being active for a certain number of days a month.
Try clipping on a pedometer to count your steps. These are available from sports shoe stores.
You might like to try doing an event. There are lots of team events, "women-only" events and some "men-only" events designed for fun and participation.
Track your progress by keeping an exercise log and recording your weekly activity. Write down what you plan to do and what you did – see below for ways of doing this.
Get a friend or family member to be active with you – you'll have twice the fun and can encourage each other.
Get some coaching or support like a personal trainer.
Get some more tips on how to stay motivated to exercise (HelpGuide).
Keep active during the cooler months using simple strategies from the Heart Foundation.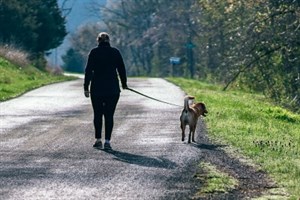 Owning a dog is another good way to stay motivated. A recent study found that regular dog walkers were more active on days with cold, rainy weather. They had 20 percent higher activity levels on days with the worst weather conditions and were more active for 30 minutes per day, compared to people who didn't have dogs.​
How to build lifelong activity habits
Being regularly active can be challenging for many people. Motivation can drop off when the weather gets colder, an injury or sickness happens, or they get busy with other commitments like family or work.
The key to overcoming these motivational dips is to start with a habit that is so easy – so deliciously small – that it takes virtually zero motivation to do it. It's about reducing barriers and getting runs on the board.
Check out 10 helpful tips on how to make a new habit stick from the All Right? campaign.
Group exercise classes are a great way to get back on track if you haven't been active for some time. They are also great if you are looking for a supportive, friendly environment or if you need some personalised advice.
Find out about small group support programmes like Pae Ora ki Waitaha Healthy Lifestyles.
Stay motivated by finding an activity you enjoy!
There's a sport or recreational activity to suit everyone.
Check out the Related Links for websites with suggestions and advice on choosing an activity or sport to try.
Tools to help keep you motivated
Activity Diary: Your own 12 month diary with free ideas, programmes and encouragement [PDF, 1.2MB].
Map My Run: Draw your run (or walk) route on a map to find out the distance, or find info about a local run that has already been "mapped".