Starting out walking
Lots of people choose to start out being more active by walking. A good guideline for how fast is to walk at a pace where you can carry on a conversation.
Find ideas to help you fit walking into your day, including the places you could go (Ministry of Health).
Read the Ministry of Health's guidelines on walking in Te Reo Māori.
What to Wear and Bring
Choose clothing that is:
Appropriate for the weather: keep out the sun, rain or cold;
Comfortable and easy to move in;
Practical: long or ¾ pants are more practical than a skirt for women;
Layered: Several layers of lighter clothing are better than one thick layer.
There are lots of flashy things available but you're bound to find something in your wardrobe that will do just fine.
Choose shoes that are:
Comfortable and cushioned;
Have good grip on the sole; and
Sturdy yet flexible - lace-up shoes are often best.
Comfortable feet are important so find a pair of socks that are cushioned and fit nicely.
Other things you might like to take with you include:
Water bottle;
Lightweight backpack or a "bum bag";
Lunch and/or snacks – healthy choices that give you sustained energy on a longer walk; and
Sunhat and sunscreen.
Suggested walking programme for beginners
Here is a suggested programme if you rate yourself as an "absolute beginner":
Weeks 1-2: Walk 10 minutes every second weekday and 10 minutes each weekend day
Weeks 3-4: Walk 15-20 minutes every second weekday and 30 minutes each weekend day
Weeks 4-5: Walk 20-30 minutes most weekdays and 30 minutes each weekend day
Week 6 and beyond: Walk 30 minutes or more on 5 or more days of the week.
Congratulations, now you are active!
Find out about local walking tracks or routes near you.
Walking with Other People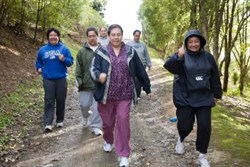 Walking with others is a really good way to keep motivated, be more committed and have a more sociable walking experience.  It's a good idea to walk with someone else who walks at the same pace as you.
If you are keen to walk with others on a particular day of the week, there are various walking groups around greater Christchurch.
Download the Christchurch City Council Walking Groups Booklet - gives descriptions and contact information of the groups if you wish to join including in the Selwyn and Waimakariri Districts [PDF].
Short guided walks (30 to 45 minutes) now depart from CCC Recreation and Sport Centres:
From Graham Condon at 8am on Tuesdays and Thursdays;
From Taiora QEII main entrance at 9.30am on Tuesdays.
From Jellie Park main entrance at 10am on Tuesdays; and
From Pioneer main entrance at 9.30am on Wednesdays.
Find out about local walking groups (Greater Christchurch Sport and Recreation Guide).
Find out about more walking groups and paths (CINCH, Christchurch City Libraries).
Join the Community Health Run or Walk - a weekly event created by some Canterbury DHB staff members. It's all about meeting others in the community and getting healthy together! Email hello[at]healthrun.co.nz for more information.
Use the Gap Map from Gap Filler to take a walking tour around the central city.
Get more information on how to start your own walking group.
Create a walking poster with times to local spots like cafés etc - thanks to All Right?
Call 0800 ACTIVE (0800 22 84 83) to get one-on-one phone assistance.