Hooping for fun and fitness
Hooping is an exercising trend that people of all shapes and sizes are taking up, to look great, feel great, and have fun!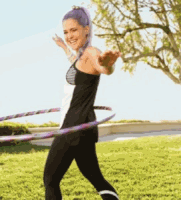 Hooping is more than just a great fitness tool, as celebrities like Kelly Osbourne, Selena Gomez, Beyonce and Grace Jones have experienced. It also:
Burns up to 100 calories every 10 minutes
Strengthens and tones your core muscles
Improves flexibility, balance and coordination
Increases blood circulation
Improves digestion
Breaks up fat deposits
Trims your waistline
Increases cardiovascular endurance
Increases spine mobility
Gets you laughing, smiling and having fun!
Find out more about hooping on the In 2 Hula website including dates for classes in Greater Christchurch.
You can also contact Bernadette the Hoop Lady on 0800 466 779 or 021 2466 779.