Starting out dancing
Everyone can enjoy dancing! No matter what age, shape, or size you are - if you can walk, you can dance.
If you don't know how, learning is really not as difficult as you might think.
Choosing a dance style that is right for you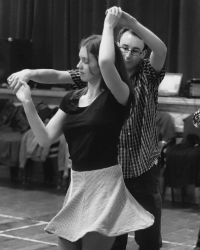 Whatever your reasons for wanting to learn, you must first choose a dance style and there are lots to choose from. Here are some ideas to assist you:
Appeal - Many people become inspired to learn a particular style after seeing other people dance (e.g. on television, in a movie, on stage, or out on the dance floor). Look at other dance styles to see if one of them is more appealing to you before you enrol in a class.
Goals - Consider your reasons for wanting to learn how to dance as this might help you decide on a style. If you want to dance professionally, you might need to enrol in a variety of classes, including ballet. If your goal is to attract attention on the dance floor, a hip-hop class may be all you need. If you danced when you were younger and are getting back into it, you could pick right up where you left off.
Preference - The best thing to do is experiment if you don't know what kind of dance you want to learn. Try a couple of classes if you can't make up your mind. You may find that clogging around in tap shoes just doesn't work for you or that line dancing with a bunch of strangers is invigorating.  Keep trying new styles - you may be surprised what kind of dancing suits you!
Find a dance class near you
Once you have decided on a dance style the next step is to find a dance class.  There are many different local groups operating.
Find dance opportunities in Canterbury (CINCH).
Contact the tutor or school beforehand so you can make sure you are in a class just right for your skill and ability level.
Remember to have fun and wear clothing that is comfortable and easy to move in!