Going to the gym
Find out about the Exercise NZ Get NZ Active Promotion to get a 40 and 70 percent subsidy on memberships at selected gyms or fitness centres.
Get advice to help you get started going to the gym, including things to consider and questions to ask (Ministry of Health).
Get a Personal Trainer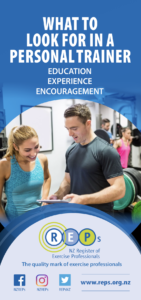 Download "What to look for in a Personal Trainer" from REPS [PDF].
A personal trainer is someone who conducts 1 to 1 training with a client at a time convenient to both parties. This training can be in a variety of forms and take place in varying locations depending on what the training is for that session.
Some of the Benefits of Personal Training
The training is purely focused on YOU and achieving YOUR goals
You achieve results quicker than on your own as you work harder than on your own
You can have fun and enjoy your training
You ensure that exercises are completed correctly and with great posture, maximising the benefits
You work at a level that fits with your lifestyle
You push YOUR own boundaries and do things you may never have done
You gain knowledge you didn't have before and can ask those "not so silly questions"
You can make your workouts time efficient, so there is no need for hours in the gym
You can improve your flexibility through focussing on stretches
Training can be tailored to whatever you require (cardiovascular, strength/resistance or distance programmes) "YOU" time
Small Group Training at City Council fitness centres
Small Group Training is one of the hottest trends in the fitness industry and now available at CCC Recreation and Sport Centres!
Small group training is for you, if you're wanting more motivation, more support and better results.
Small group training is personal training in a small group of 4 to 6 people). It provides you with the benefits of personal training at a much lower cost.
Find out more about Small Group Training at your local CCC Recreation and Sport Centre.