Swimming Pools
A visit to your local pool is a fun family activity that builds water confidence. There are some great facilities across Canterbury that are family friendly and the perfect place to burn off some excess energy.
Around Christchurch City
Greater Christchurch and surrounding districts
Find out about the CCC Swimsmart programme that aims to help pre-schoolers, children and teenagers learn to swim and be water confident.
Read more about the Early Birds Club at Taiora QEII.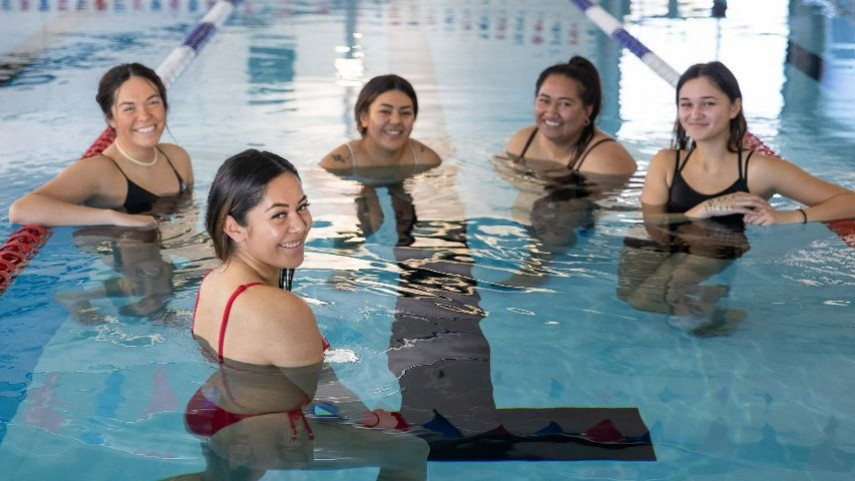 Te Pou Toetoe: Linwood Pool is open every Wednesday afternoon and evening (3 to 9.30pm) for swimming sessions just for women.
Unwind in the spa, swim some laps in the lane pool, splash with your kids on the wet deck or sign up for a swimming lesson to further your water confidence.
All women are welcome, including transgender women and people who identify as being a woman. You are welcome to bring your children, including boys 5 years old and under.
For your comfort and privacy, women-only staff will be poolside and the blinds will be down so you can relax and enjoy the pools in your own way.
Standard pool entry fees will apply. Free entry for pool or multi members.
Free sanitary products available at North Canterbury pools
Free sanitary products are being provided to the public at pools in North Canterbury to help remove barriers that discourage people from swimming.
Waimakariri District Council is providing regular and swim tampons and regular and super pads to females who need them.
The Waimakariri District Council's aquatic facilities manager Matt Greenwood, said the idea was brought forward to "reduce the barrier of inclusion", and that supplying sanitary items enabled people to live their normal lives.
"We always see people sitting out and not joining in, now people can do their recreational choice and recreation with family."
Posters have been put up in pool changing rooms for women to tear a token strip off the bottom. "They can then take their strip to reception, have a quiet word with whoever is on, and they will discretely pass them the chosen product," Greenwood said.
The sanitary products have been donated and are not costing the Council any money.
Free sanitary products are also available at the district's libraries - in bowls in the female toilets.