Swimming Pools
A visit to your local pool is a fun family activity that builds water confidence. There are some great facilities across Canterbury that are family friendly and the perfect place to burn off some excess energy.
Around Christchurch City
Greater Christchurch and surrounding districts
Find out about the CCC Swimsmart programme that aims to help pre-schoolers, children and teenagers learn to swim and be water confident.
Read more about the Early Birds Club at Taiora QEII.
Celebration as Linwood's new pool opens
Christchurch City Council Newsline: 1st October 2021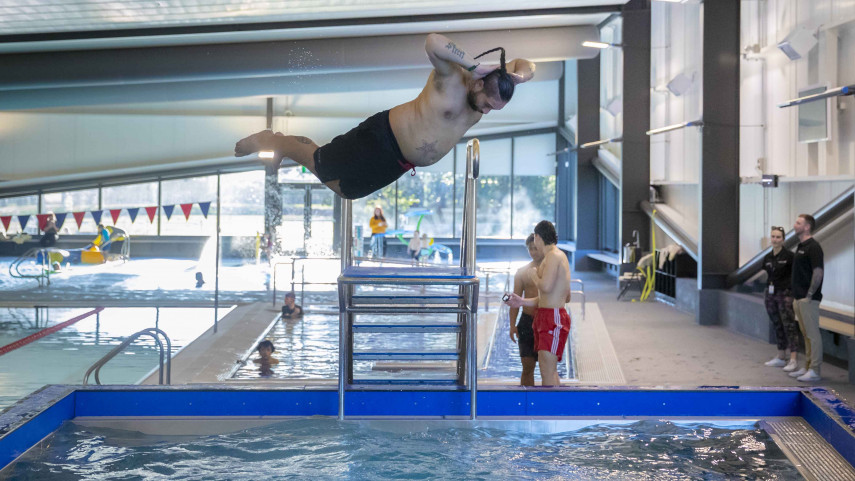 Mayor Lianne Dalziel has officially opened Te Pou Toetoe: Linwood Pool - sixteen months after the first sod was turned on the corner of Linwood Avenue and Smith Street.
"It's exciting to see this fantastic new facility opening for the people of Linwood, Woolston and surrounding areas," says the Mayor.
The facility's capacity is reduced while Christchurch is in COVID-19 Alert Level 2. However bookings are now open for learn to swim lessons, group fitness and recreation classes which begin on Monday 18th October. An opening celebration with events and entertainment is planned for Alert Level 1, to welcome the community to their new facility.
"This amenity will be of real and lasting benefit to the community for years to come – a place where individuals and families, community groups and school children can come together to connect, to swim, to play, to learn and to make lasting memories for generations," says the Mayor.
The $22 million complex features a multi-use 25-metre lane pool, a deep-water manu/splash pool, a family spa pool, learn-to-swim pool, and a pool for toddlers.
Community meeting rooms and a kitchen connect to an outdoor gathering area with picnic tables, tennis and multi-use courts, cycle stands and parking.
The facility will be women-only every Wednesday from 3 to 9.30pm - starting from Wednesday 6th October 2021. These special women-only sessions come at the community's request, and will provide an opportunity for women and girls to make the most of the pools.​
Find out more about Te Pou Toetoe: Linwood Pool, including how to book for a class.