Spring Activity Providers Workshop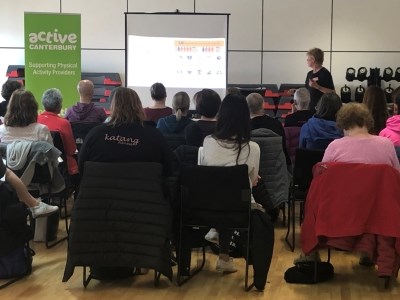 The main topic of this workshop is delivering safe exercise options to groups for whom pelvic floor weakness is an issue - including pre and post-natal women.
Date: Saturday 29th August 2020.
Time: 12.30 to 4.30pm.
Location: Pioneer Recreation and Sport Centre (75 Lyttelton Street).
Cost: FREE.
The workshop will also cover:
Pharmacology and the valuable role pharmacists play within Canterbury healthcare;
Square dancing with Lyn Prentice;
Hikitia Te Ha with Vaea Coe; and
Top tips from award-winning instructor Danielle Mather.
This workshop is suitable for community group exercise leaders and volunteers, exercise professionals delivering group exercise classes, and students completing exercise​ qualifications.
Register online to attend this Spring Active Canterbury workshop (SurveyMonkey).
Registrations for this workshop will close at noon on Friday 21st August 2020.
You will earn 2.5 CPDs if you attend the entire workshop.
Contact Kris Tynan for more information on this workshop (kris.tynan[at]xtra.co.nz or 021 262 8886).
Here are some testimonials from attendees at previous Active Canterbury workshops:​
"I couldn't recommend this workshop more – I gained the knowledge I needed and the insurance I was doing the right thing for my classes."
"I went home buzzing with new information and ideas."
"Every time I come, I learn something new and meet new people. Really worthwhile."
"Excellent resources in a fun way with a chance to connect with other providers."