Community Exercise Foundation Course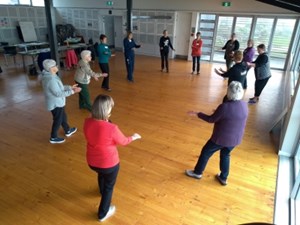 This exciting foundation course is now in its fifth year. The one-day workshop is suitable for:
Inexperienced instructors in a community or church setting who want to develop more confidence;
Current activity providers or exercise professionals who want to upskill in the area of community-based group exercise delivery;
Volunteers who lead or assist with the delivery of classes in age care facilities or for organisations that provide exercise classes for seniors; or
Anyone interested in becoming a group exercise leader.
No previous exercise or instruction experience is required - just a passion for connecting with people in their communities and delivering safe and suitable classes and activities.
The course with Kris Tynan will cover exercise benefits and principles, common health conditions, communication, cultural considerations, health and safety and practical ideas and exercises to introduce into a class.
Dates: Saturday 22nd May 2021.
Time: 9am to 4pm.
Location: Matuku Takotako: Sumner Centre (14-16 Wakefield Avenue, Sumner).
Cost: $30 per person or $50 for 2 people from the same organisation. This includes a course folder and handouts.
Register online for the Community Exercise Foundation Course. Registrations close on Friday 14th May 2021.
Contact workshop facilitator Kris Tynan for more information (kris.tynan[at]xtra.co.nz or 021 262 888).
Here are testimonials from previous attendees:
"So many fantastic ideas…"
"The course was a well-balanced blend of knowledge put into practical applications both on the course and which can be applied in my particular group."
"I learnt some good energiser activities and exercises that I can use with older people in a group exercise setting..."​

About the facilitator Kris Tynan
Kris Tynan is Programme Director of the NZ based charity Exercise as Medicine and works with people with Long-Term Conditions. She is an Otago University graduate (Dip PE) and has gained further training through FAI (Functional Aging Institute (US), GP Referral (UK), CETI (Cancer Exercise training Institute) (US)  and Brain Health Trainer (US).
Kris has presented at the International Council of Active Ageing Conference (US), FitEx (NZ) and Filex (AUS). She is the author of "The Interactive Instructor" and the LOAFFA resource for Leaders of Older Adult Exercise. She is on the advisory board of the Register of Exercise Professionals (REPs) and in 2012 was awarded the Exercise NZ Award for Outstanding Contribution to the industry.