Autumn Activity Providers Workshop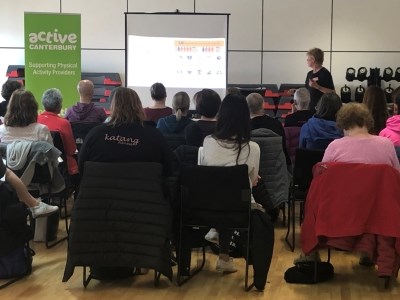 The main topic of this workshop is helping people with 'bad backs' - a very common issue. Physiotherapist Chris Roberts will explain the spine's basic structure, how it is supposed to work, what goes wrong and what key things you need to know to help your class participants manage.
Date: Saturday 27th February 2021.
Time: 12.30 to 4.30pm.
Location: Pioneer Recreation and Sport Centre (75 Lyttelton Street).
Cost: FREE but registration is essential.
The workshop will also include practical sessions on:
The Feldenkrais Method® - Neuroplasticity in Action: This method involves slow gentle movements designed to bring your attention to your current movement habits. It also uses movement variation and constraints to find easy efficient actions and a decrease in pain;
Drumming good fun: Steve Seth from Auckland will introduce us to the joys of drumming. Drumming is not only fresh and fun but it is a great fitness modality for any age group - particularly older adults; and
Meditation: Your chance to experience some short and simple meditation practices that can be easily incorporated into your sessions.
This workshop is suitable for community group exercise leaders and volunteers, exercise professionals delivering group exercise classes, and students completing exercise​ qualifications.
Register online now for this Active Canterbury Autumn workshop (SurveyMonkey).
You will earn 2.5 CPDs if you attend the entire workshop.
Contact Kris Tynan for more information on this workshop (kris.tynan[at]xtra.co.nz or 021 262 8886).
Here are some testimonials from attendees at previous Active Canterbury workshops:​
"I couldn't recommend this workshop more – I gained the knowledge I needed and the insurance I was doing the right thing for my classes."
"I went home buzzing with new information and ideas."
"Every time I come, I learn something new and meet new people. Really worthwhile."
"Excellent resources in a fun way with a chance to connect with other providers."