Seniors Eating Well Snippets
Seniors Eating Well (SEW) Snippets is a customised teaching resource designed to support activity providers deliver key nutrition messages to older adults in an exercise class or programme setting.
The Snippets are a series of five-minute modules designed to be delivered by activity providers (instructors, leaders and trainers) working with older adults, as a one-off session or a four-week programme to a group.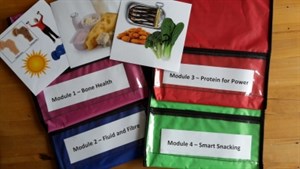 The four modules cover:
bone health,
fibre and fluid,
protein, and
healthy snacks.
SEW Snippets aims to improve the nutritional status of community-living older adults by increasing knowledge of healthy eating behaviours, and encouraging goal setting and positive behaviour change.
Get trained to run the SEW Snippets modules
Activity providers need to attend a FREE 90-minute training session to deliver the SEW Snippets modules. The training session is run by a dietitian and is held up to twice a year. These training sessions are coordinated by Active Canterbury, and additional sessions can be organised based on demand.
All activity providers who deliver the modules can access free nutrition advice and support from a dietitian if required.
Find out about upcoming SEW Snippets training sessions.
Delivering the SEW Snippets modules
Trained providers can loan a SEW Snippets Resource Kit for a maximum of 6 weeks at a time. This kit includes:
a delivery plan for each module - also available to download or print below;
visual teaching aids on canvas blocks;
interactive resources;
nutrition pamphlets and an order form; and
helpful online links and resources.
Five SEW Snippets Resource Kits are available to loan - three in Christchurch, one in Selwyn, and one in Waimakariri.
Contact the Active Canterbury Network Coordinator to book a SEW Snippets Resource Kit on specific dates using the online form below. The Active Canterbury Network Coordinator will contact you to finalise the dates and arrange a collection time.
Helpful resources when running SEW Snippets
Download the Seniors Eating Well Snippets: Background nutrition information [789KB PDF] - updated October 2020.
Download the delivery plans for the four SEW Snippets modules:
Download the order form for the Easy recipes for one or two cookbook [609KB PDF] - updated July 2020.
Download the order form for older adult nutrition resources [183KB PDF] - updated October 2020.
Order older adult nutrition resources from the Community Health Information Centre.
Contact Active Canterbury for more information on SEW Snippets: