Wellbeing Bingo
Wellbeing Bingo has now finished. The campaign was developed by the Active Canterbury Network to encourage Cantabrians to re-establish and develop new activity habits. It ran for 5 weeks between Monday 1st August 2022 and going until Sunday 4th September 2022. We hope you enjoyed taking part! 
Keep playing by trying new activities and stepping out of your comfort zone! Being active each day is one of the most important things you can do for your health and wellbeing.
We would love to hear about your experiences playing Wellbeing Bingo.
Complete the Wellbeing Bingo survey (Survey Planet) and be in to win hot pool passes for He Puna Tai Moana.
How Wellbeing Bingo worked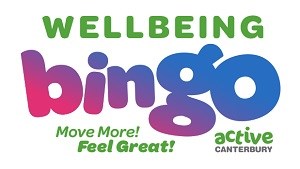 There are two cards to choose from: the Families/Whānau card OR the Individual card.
Each card has 25 activities to complete. There is a focus on trying new activities, exploring nature, visiting new places and easy ways to move. The Five Ways to Wellbeing are woven through the activities.
Cards can now be picked up from various locations across Christchurch, Selwyn and Waimakariri.
You can also download them:
Download the Wellbeing Bingo Families/Whānau card [3.94MB PDF].
Download the Wellbeing Bingo Individual card [1.94MB PDF].
The downloadable cards are editable - so you can play even if you don't have access to a printer! Simply save the card to your computer, tablet or phone, fill it in online, and take a photo of the screen when you are ready to enter the prize draws.
How to play
Each card has 5 rows of 5 activities.
The aim is to complete the activities in a row each week and then send in a photo of the card to enter the weekly prize draw.
You can complete the activities in the row you've selected in any order.
You can post your photo on Facebook, Instagram or send by email.
Go to the Wellbeing Bingo page on Facebook.
Ideas for completing the activities
Need some inspiration or ideas? Browse the Active Canterbury website for information about outdoor spaces, playgrounds, pools, maps and other resources and activity ideas.
Get some ideas for completing the Families/Whānau Wellbeing Bingo card [PDF].
Get some ideas for completing the Individual Wellbeing Bingo card [PDF].